University lifestyle: Here we go!
9:30 AM
I think yesterday was one of the craziest days in all my entire life. A huge assembly hall on the Architecture School of Valencia received us, about 300 people on the first year on more than 5 classes. Luckily I had some mates from before: fencing, Facebook meetings, friends' friends... You know. So meeting up was pretty nice, and I already know some of my classroom mates who will be with me for the following 5 years.
I was very excited to show you what I wore them, and share with you my feelings on that day. I still have lots of people to meet, and teachers have already introduced some of the most important things on this studies. First of all, seems that Architects (or wannabe architects) don't sleep. Then, seems like they really like to walk, because my new school is full of stairs up and down. Is absolutely crazy.
I decided to wear something very comfortable but still catchy. As I know I'll be carrying lots of stuff soon (journal, pencils, maybe books and even my laptop!), I decided to buy this Lamarthe brown leather bag about a month ago, which I think is perfect for University. Have you ever seen ''Doraemon''? Well, this bag reminds me its magic pocket. It's being colder on early morning, so as my lace shirt from Hollister is very thin, I decided to take with me this yellow blazer, which added the ''old school'' look, but also matched pretty well the color on the brown flats and bag.
And yay! I finally received on Tuesday morning all the packages I talked to you about on the last post. First of all, my
Dawn and Dew Drop Dress
from Modcloth which
I had some issues with, because it seemed that the package lost (it was ordered about three months ago), and finally ordered another dress (which arrived today).
I'll tell you the details very soon if possible. Also, the
Faceted Beads Pendant Necklac
e from Romwe which looks from the 50's. So elegant and classy.
And finally,
the exciting part: my items from Untitled Label, a new brand which I'm collaborating with.
The ring I'm wearing on this outfits come from there (thanks girls!) and I'm also planning some outfits with the mint asymmetrical skirt.
But, advice!
The ring runs a bit bigger, and if you just loved the skirt, please size up! Mine is L and it's a bit difficult to go in.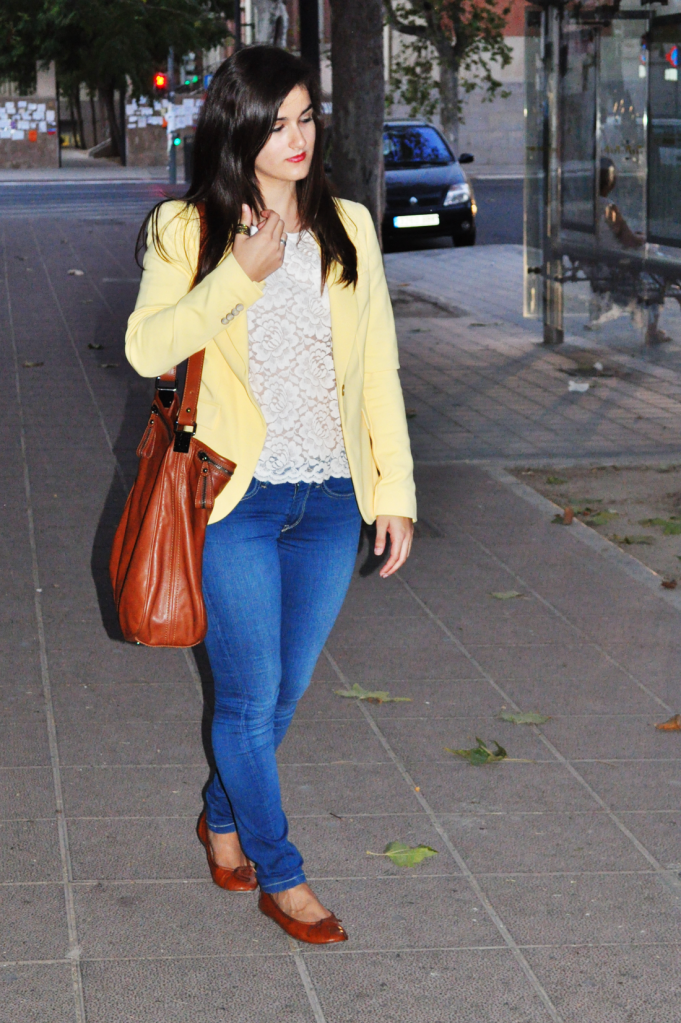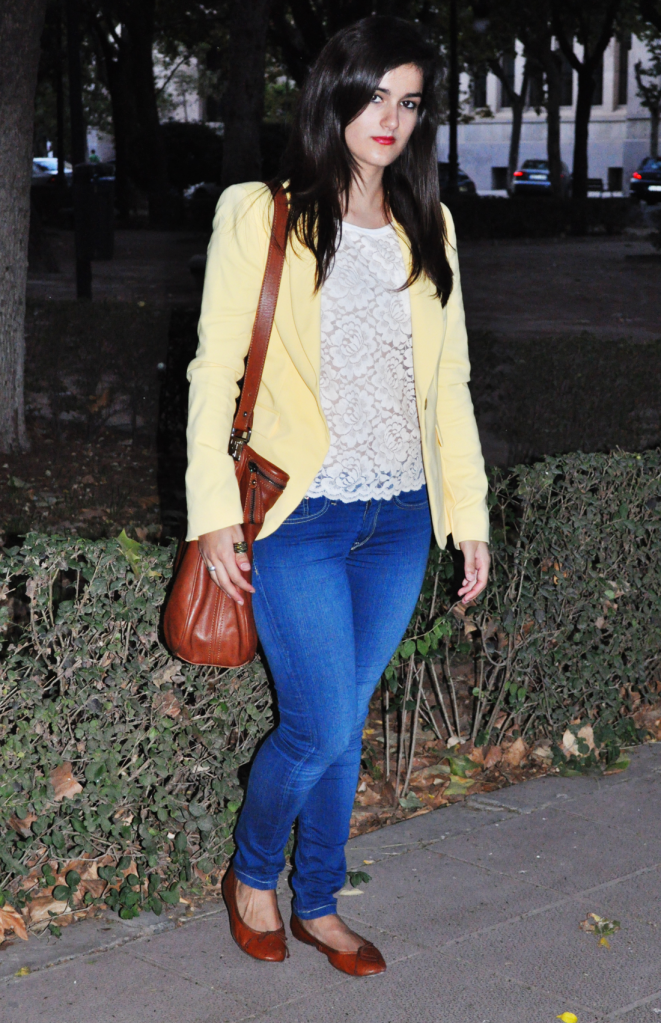 I was wearing:
Zapa brown flats
Zara yellow blazer
Lamarthe brown leather bag
Pepe Jeans jeans
Hollister lace top
Untitled Label ring
Tous earrings