BEHIND THE DESING: LouveDeNordneg
11:00 AM
[...] ''
For me, what's important is the story behind the design, the care you put when you create a very unique design''
[...]
Meet
Sofi Le Geron
and her designs at
LouveDeNordneg
, where art and imagination turn into unique silk scarves and bowties. Sofi studied at London's Central St. Martins College of Art and Design, and launched her brand on 2011. She designs
chiffon
silk pieces from manipulated photographs of different objects and sculptures created by her own.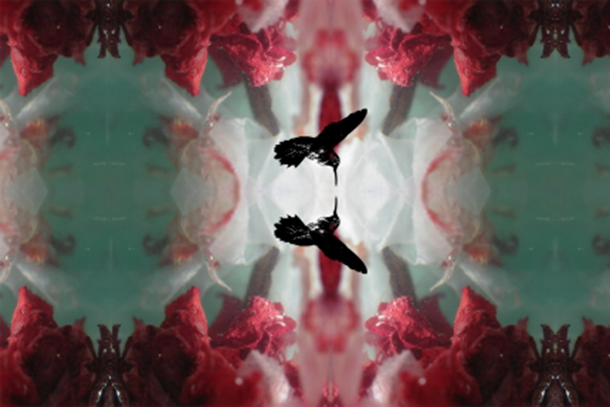 Your designs are delicate and very imaginative. How does the main idea of a pattern come up?
It will all sound very romantic (OMG I'm so French sometimes!!) but for this collection, I used withered flowers from my garden, feathers, leaves, ink, pearls, ribbons, lace, etc. I use these as a base to create miniature sculptures (yes I'm quite small – size 6 and 162cm so I like creating small worlds that fits me!). I spend hours carefully arranging my selection of objects to make sure that the final result is as perfect as possible, harmonious, well balanced and striking by their colours and textures.
Tell us a little bit about the process that your scarves and bowties follow. Do you use chiffon silk for any particular reason?
I just love silk. It's so soft on the skin, so delicate, floaty, light but strong at the same time, like the tiny little worms who make it, haha! Because my designs are quite romantic and aerial, so I felt that it was the perfect material to use.
Do you think there's any particular pattern, shape or colors that always come on your scarves? Or they just come up in total different ways?
My designs always come up differently, that's what I prefer when I create patterns: sometimes they really surprise me. When you create something, it's like psychoanalyzing yourself somehow: you discover traits of your personality you might not have been aware of. Getting a different result each time is very exciting. But the challenge is to have an harmonious collection and that takes a lot of practice, knowledge and learning.
What do you think is special about your designs compared to bigger brands or brands which have a huge exposure in the media?
Originality and exclusivity. Most big brands sell the same accessories across the world, they tailor them very slightly but for some of them unfortunately, it is sometimes just a question of putting a logo on a piece of clothing and then it's worth £££. For me, what's important is the story behind the design, the care you put when you create a very unique design. Craftmanship is what makes it exciting and unique. Also, I am not mass producing my designs so it makes my accessories very exclusive. When you buy a Louve de Nordneg piece, you buy a garment that is closer to you, a garment that tells a story.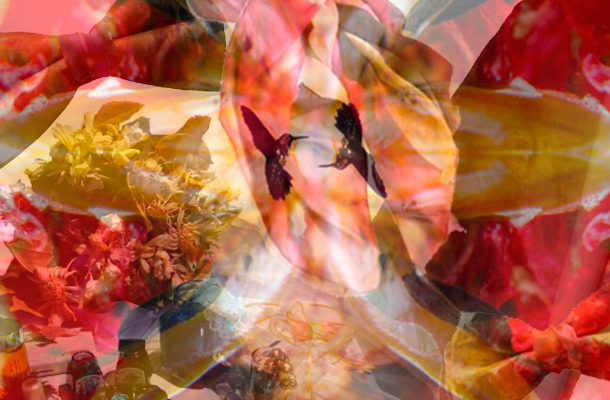 Your collection has a touch of mysticism and makes everybody let imagination fly… Do you think that the fact that your designs inspire each person a different feeling is a good thing?
Absolutely. When an artist creates a piece, he doesn't want everybody to react in the same way or not react at all, otherwise it means that he has failed. Pieces of art that generate strong emotions are the only successful ones. Art and fashion are my only passions so when I see one of my customer trying to decipher what the pattern is or tell me what it evokes to them, I find it very exciting and touching. Yes... I am a very sensitive person, haha!
By the moment, we are only able to see scarves and bowties on your current collection but… Would you like to add on the future more accessories, or even creating a clothing line?
A clothing line is in the pipeline as well as bikini wear. What I like with the scarves at the moment, is that thanks to their sheer size, they can be used as sarongs/beach dresses and with summer coming up, I really cannot wait to wear them on the beach (Well... Yes. I like other girls thinking: ''Oh, where did she get this scarf/sarong?''... A bit of jealously can be fun!)
What's your favorite part about conceptualizing a design?
What I prefer is really looking for objects or material to create the next piece. I also spend a lot of time daydreaming in art shops to find new material and discover new techniques. I guess it's the discovery and the learning process that I really enjoy! Something you create tells a lot about your personality. And I love getting this kind of adrenaline rush when you create!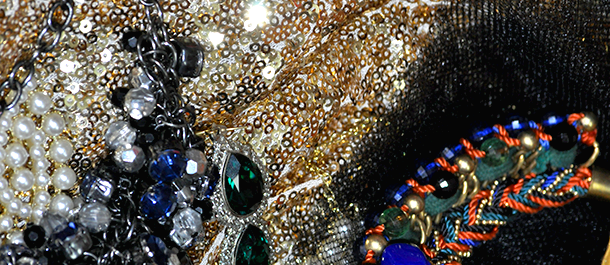 What does fashion mean to you?
Fashion has always taken a very important place in my life. And to me it means showing who you are inside but on the outside. It's all about expressing yourself with a silent (but obviously stylish ;) language.
The tools social media provide are promoting a kind of ''fashion-globalization''. Do you think it's now harder to be apart from the mass and be unique?
On the contrary, I think it's easier to be unique as a designer because you can have access to the Internet and sell your products online as opposed to local shops only. So for example, I sell my designs in the US, Singapore, Europe and without the Internet, it wouldn't be possible so I very much worship this tool! I love being part of the digital revolution, am such a geek sometimes! Did I tell you that I like video games?!
As gestures, fashion is a way of unwritten communication, sometimes even considered a language. Do you think this is true? If so, in what way?
Absolutely, like I previously said, you dress to communicate who you are, where you live, what you like, it also shows to which social background you are from, etc. It's an important code that says so much about yourself and what you want to tell people about yourself.