Here's the expected post about architecture & fashion I talked to you about
some posts ago.
Today I want to talk to you about something we see everyday
and maybe we don't think about too much
, but can be considered another important point of fashion:
window displaying and visual merchandising.
Why I consider this architecture? It's another way to create spaces, and creating a window display or a shop itself is another way to designing an interiorism project. You must work with light, furniture, colors and lots of factors if you want the client to gaze at the product you want to.
Think about this: maybe you didn't have looked at that dress or shirt if a designer didn't put the light like this or that.

There's also a relationship with fashion. As it, there are lots of different styles and trends, and the goal is creating a sort of scenery where the garments are the main actors.
As I don't want to bore you, I'm going to do a brief summary about window displaying and show you examples of some interesting factors and things.
(YSL store in Paris, own sketch)
What: Window displaying, and fashion shop design in general. The principal target is to attract the client and create a sort of visual impact.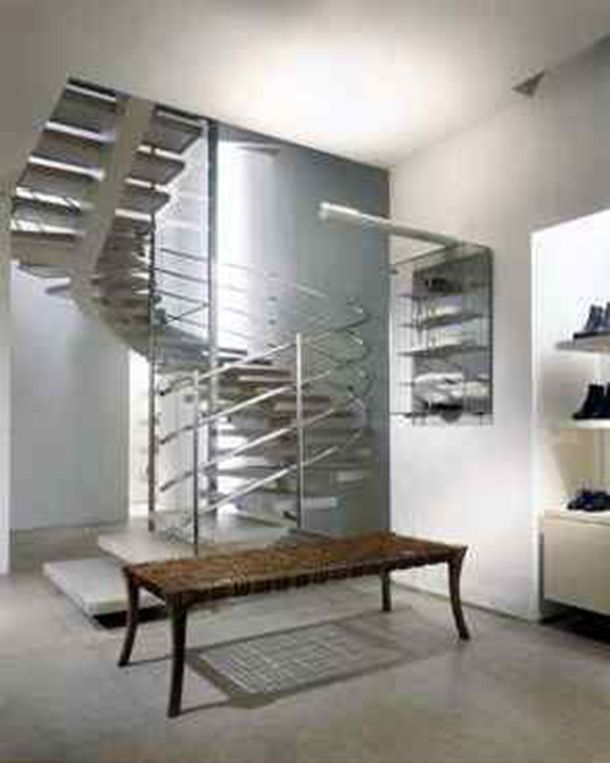 (Jil Sander, Paris. Via therepublicofless.wordpress.com)
Who: Mostly architecture studios (Gabellini Associates planned the Jil Sander store in Paris, for example) but also designers and ''window dressers'', some of them with special qualification or degrees about it.
(Chanel, Osaka. Via thefashionspot.com)
Where: usually at well-known brand stores and flagship stores which are in need of a new design which highlights their products, or which help the brand build a concrete style or identity (ex: we usually associate Chanel with black and white, pearls, classy lines...)
When: it started on the Industral Revolution, at XIX century, when some products started its mass development, and there also started a separation between the work place and the selling place. People began to like showing the novelty, and the appearance of a new social class, bourgeoisie helped to consolidate the consumism phenomenon.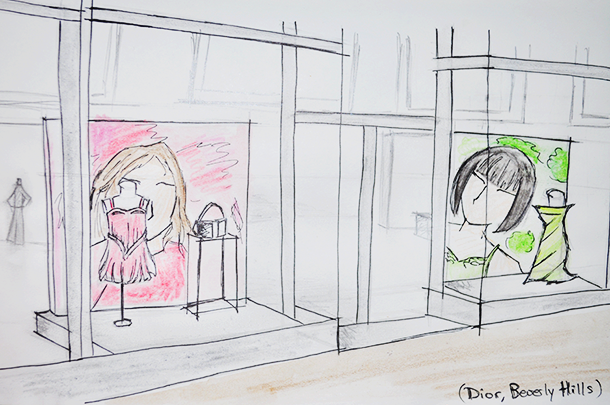 (Dior, Beverly Hills. Own sketch)
Why: some brands cover generations and win unconditional clients which will recognise their products all over the world. Some designs are made for modify consumer's behavior, and the phrase: ''Tell me which brand/store you buy in, and I'll tell you who you are'' may be a great example of this. So, some displays are made for giving an identity, or following the brand's philosphy, while others are just for highlighting certain products or trend.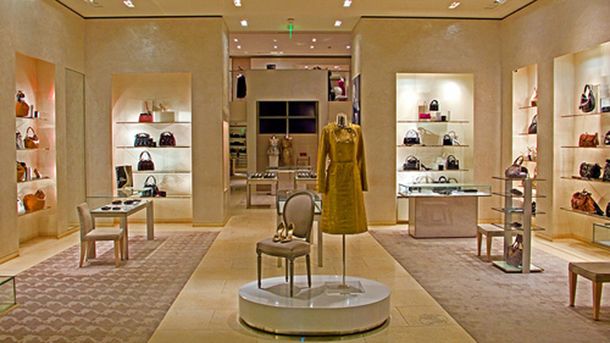 (Dior, Beverly Hills (Interior). Via flickr.com)
How: there are infinite combinations of styles, illumination, colors, furniture, etc. Basically, it all depends on what's the first impression you want to offer, and who's the public you're focused on (by age, genre, social status...). Once you have that, it's time to offer the product, and play with lights, textures, interactivity and work out the general layout.