How to wear: Varsity style
7:00 PM
(Nike advertisement)
Today, I'm going to talk to you about a cool trend for this upcoming Winter Season: the varsity style.
Varsity comes from University, and I'm sure this style will make you remember movies like ''Back to the Future'' or ''Grease''. It's been a trend which has being coming and leaving season to season, but it seems this year is here to stay. It doesn't mind if you're a guy or girl, the varsity jacket is the perfect garment to go to school, hang out with your friends on a cold afternoon or to go for excursions.
There are lots of cheap options if you want to get that geeky-cool perfect outfit. This season stores and brands like Bershka, Pull&Bear, TopShop and ASOS have lots of great jacket stuff. I've seen some going shopping anywhere, so I'm sure you'll find easily your perfect one. There are in tons of colours, styles, shapes...
On the actwalk we've seen them with Isabel Marant and Balmain. You can wear them with a pair of skinny jeans and sneakers for the comfy outfit, or for a more casual touch, try with a pair of flats.
Want to look more girly and feminine? Try with shorts, jacket, and sandals or a bag/clutch you love.
Lots of fashion bloggers have also joined this trend, like Natalie from Lucy and The Runaways, who wears the Varsity jacket with a black skirt. A very creative and different way to combine it!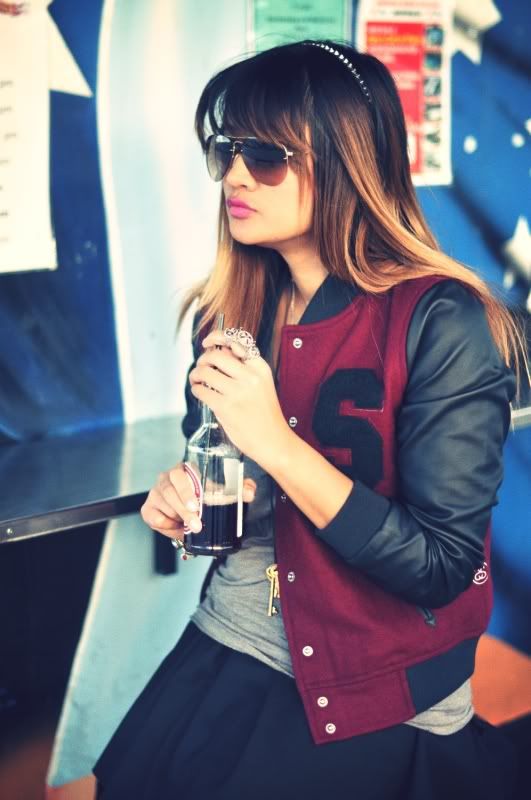 Coralie, from
Coralie's Looks
wore it with wedges, and with a total in black outfit.
More classy
, but still fresh and young. I already have my own
varsity jacket
(I bought it last Spring on a local store). What are you waiting for to get yours?