Union Jack in my satchel
9:30 AM
Seems like I'm still stucked on the Olympic feeling.
As I've been obsessed with satchel bags lately, and for flag merchandising as you know, this cutie was just the perfect accesory for me. I don't really like huge bags that are almost as big as I'm, but I've also been in a love-hate relationship with clutches and tiny bags where I can't carry all my stuff. So, this bag also has the perfect size: I can carry my sunnies, purse (it matches the bag, haha) and lipstick into it.
I chose this outfit for going window shopping (although I finally bought some things at Primark and Tommy Hilfiger... Shopaholic me) and have a peaceful evening at
Bonaire shopping centre
. It's a huge mall, outdoors and more or less at 20 min by car from Valencia. I usually prefer going nearer home, but as it is being too warm and windless, we decided to go to this place where we know it would be fresher (although as it is outdoors so there's no air conditioning). I'm also returning to my
routine this following week
, so I think this is the last time I had some peace outside, without worrying about if it's too late or I have to return home because I have work to do. Don't get me wrong: I'm quite happy, because I'll be training again this week, I'll see my cute fencing friends again and so on, but I'm sure I'll miss stay just doing nothing. Additionaly, I'm sure I won't have so much time to post here, because this year
I want to be very, very focused on my University's first year, fencing and on my boyfriend and friends as well.
Ok then. About the outfit... The white shorts were absolutely a bargain at Zara. They're not my usual size, but they fit quite well, and I love how they make me look super thin (maybe because they're high-waisted? I don't know). The red beads necklace is from my mum's. She said it was bought
about 30 years ago
, and was forgotten on the bottom of a box in the closet. The high wedges/espadrilles came from
Pepe Jeans. Sales. Sales everywhere.
I saw them at the first days of sales, but didn't try them on, and I just became obsessed about them. Finally got them a couple weeks ago. They're quite comfy, but as my feet are so sensitive,
I must wear them with adhesive strips and bands to avoid unwanted sores.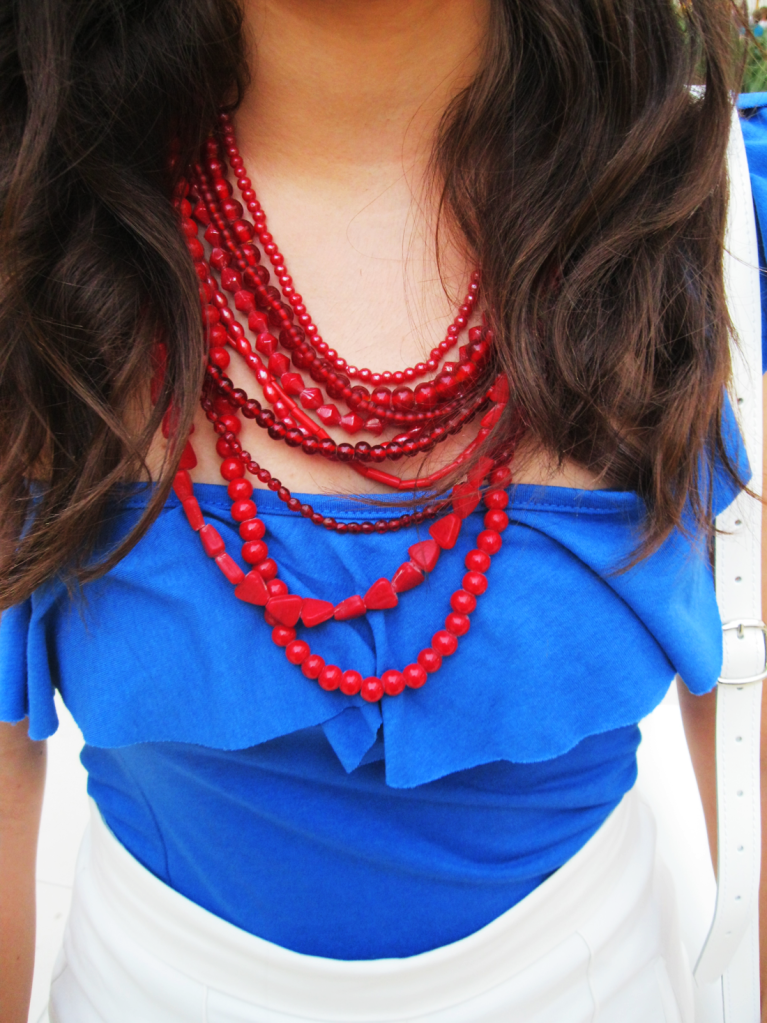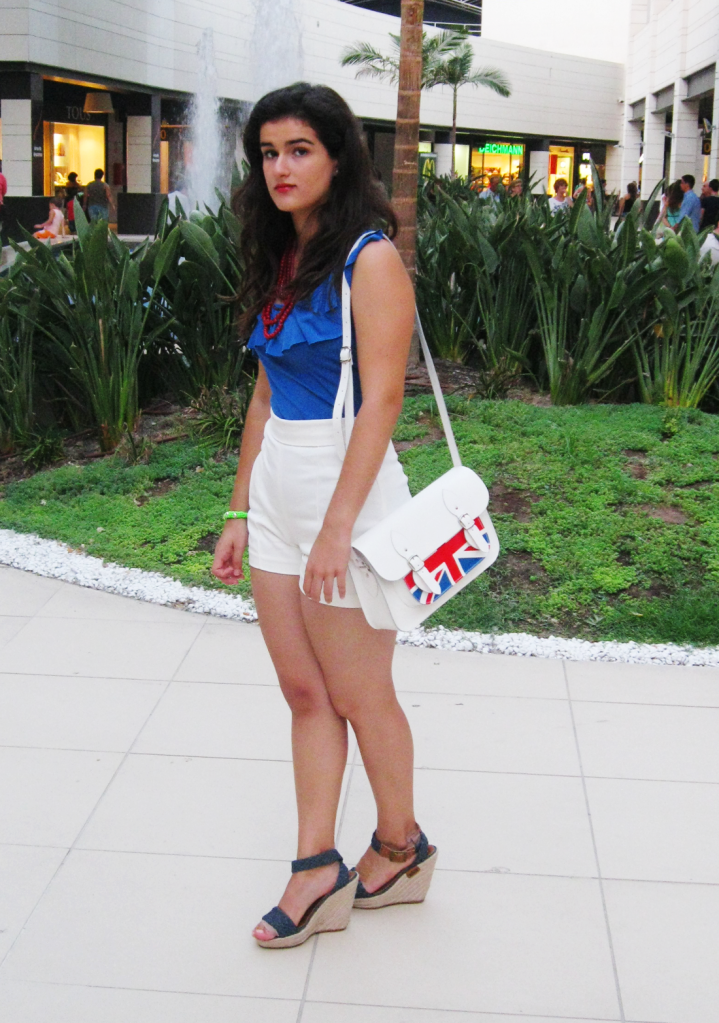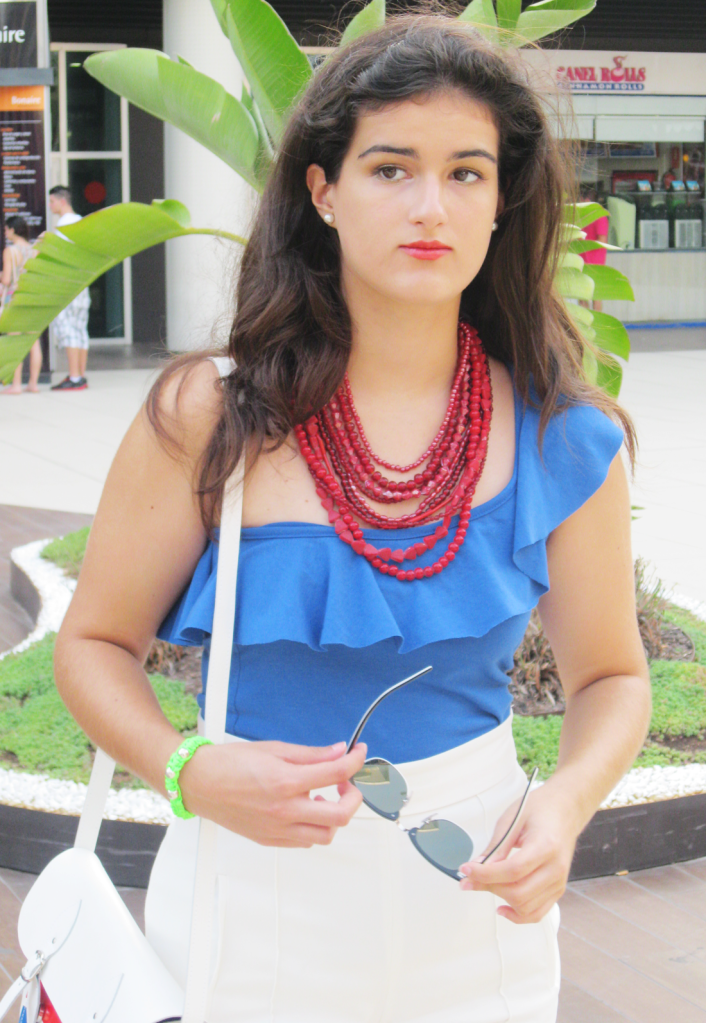 I was wearing:
Zara white high waisted shorts
Rayban clubmaster sunnies
DIY neon bracelet
Union Jack flag satchel bag
Pepe Jeans wedges/espadrilles
Vintage red beads necklace
Festa one shoulder ruffled blue shirt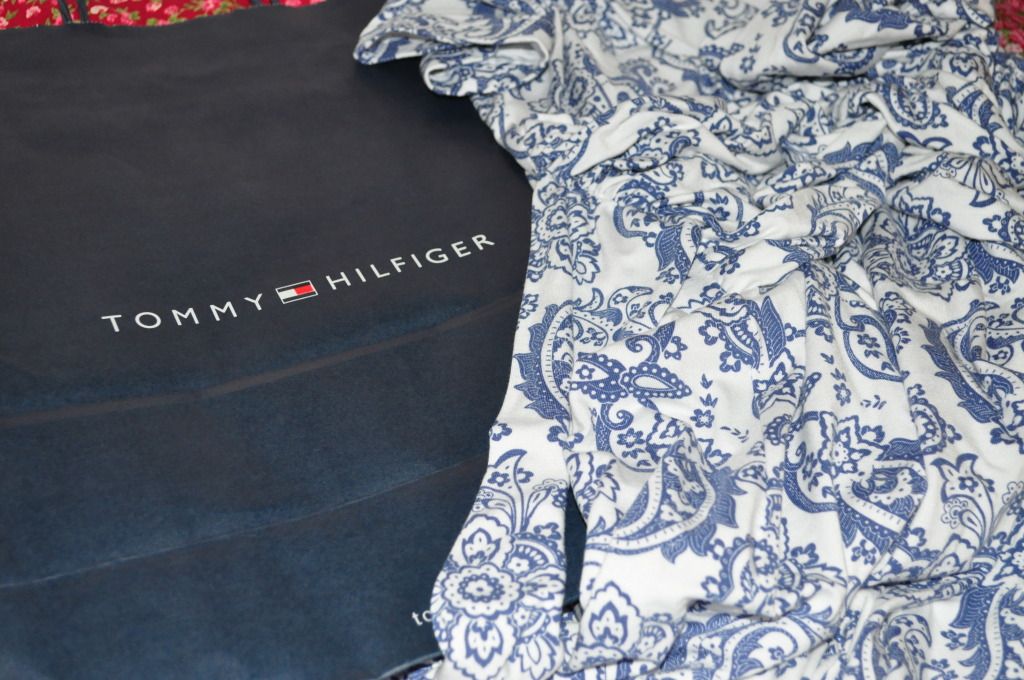 (And finally a little sneak-peak of what I bought on Tommy Hilfiger...)